Peju Layiwola earned a BA (Metal Design) in 1988 at the University of Benin, Benin City; an MA and Ph.D. in Art History at the University of Ibadan, Nigeria in 1991 and 2004 respectively. Her father, Babatunde Olatokunbo Olowu who hails from Idumagbo, Lagos is the scion of Charles Olatokunbo Olowu who established the first cinemas in the old Midwestern region of Nigeria. She follows in the footsteps of her mother, Princess Elizabeth Olowu, daughter of HRM, Oba Akenzua II of Benin, in a career in art, adding art history to her intellectual portfolio during her graduate studies.
Layiwola works in a variety of media ranging from metalwork and pottery to textile and sculpture and addresses diverse thrust of the postcolonial African condition. She focuses on personal and communal histories, which centralize Benin as both an ancient kingdom and a contemporary city. In her teaching, writing, and art, there is continuous engagement with themes of artifact pillage, repatriation and restitution, history, memory, gender and the continually mutable processes of production. Her work moves from the emotive space of art pillage in Africa captured in previous exhibitions: Benin 1897.com: Art and the Restitution Question (2010), Whose Centenary ? (2014) and Return (2018) into a gentler engagement with cloth and its multiple significations. 
Her works can be found in the collection of Microsoft Lagos, Yemisi Shyllon Museum, Pan Atlantic University, Lagos and homes of private collectors such as JP and Ebun Clark and HRH, the Obi of Onitsha.
Layiwola began her teaching career at the University of Benin in 1991 and later joined the services of the University of Lagos in 2002. She served as Acting head of the Department of Creative Arts, University of Lagos from 2013-2015 and as a Head from 2017-2020. At the Department, she initiated the review of curricula, edited the first journal of the Department, commissioned the painting of the extensive mural on the façade of the Creative Arts building, wrote a proposal funded by TETFund for the establishment of an Art and Craft Centre at the University of Lagos and established the Lagoon gallery- a platform for community engagement and showing contemporary arts on the campus of the University of Lagos.
Within the academy and beyond, Layiwola has instituted practical interventions and initiated new pedagogical methods that extend into local communities through the non-profit organization, Women and Youth Art Foundation (Wy Art) that she founded in 1994. The Foundation produces the innovative and popular instructional DVDs on arts and crafts in Nigeria. She also established an online post covid intervention for teaching art known as MasterArtClasses.
She has received several awards: Departmental prize in Applied Arts in 1987; Best graduating student at the University of Benin Art School in 1988; NYSC Merit Award, Lagos State (1989); Distinguished Researcher's Award, Faculty of Arts, University of Lagos, 2007; Two Central Research Grants of the University of Lagos (2015 and 2018); Commendation for teaching at the University of Lagos, in 2005.  She was awarded the Distinguished Scholar Award, of the Lagos Studies Association in 2021 
On the international level, Layiwola was elected President of the Art Council of the African Studies Association( ACASA) 2021-2022.  With this appointment, she becomes the first African female and first resident president of the Association. She is a recipient of the British Council Sub-Saharan Africa Arts Cultural Exchange grant, 2021. She also received the African Multiple Cluster of Excellence, University of Bayreuth Grant, 2020; Tyson Scholar at the Crystal Bridges Museum, Bentonville, Arkansas, USA (2019): Distinguished Professor and Visiting Scholar at the University of Arkansas (2019-2020) and received the Honourary 2020 Ambassador of Goodwill Award from the State of Arkansas. She was awarded the prestigious Terra Foundation grant for American Art in 2018; She is an Alumni of the CAA- Getty International program participating in 2013, 2018 and 2021 programmes in the US.  She was nominated to the US International Leadership Programme (IVLP) 2011. She partnered with the Bronx Museum of the Arts on the Hilary Clinton US State Department SmARTpower programme in 2012 which hosted American artist, Brett Cook in Lagos and Ibadan.  The outcome was a series of workshops culminating in the making of an Iconic mural in the University of Lagos, 2012; She won the US Lagos State Consulate Grant 2017 and the US Alumni Exchange Award 2018.  She was also awarded a Goethe Resident Artist grant, (KNW) in Dusseldorf in 2017 and African Multiple Cluster of Excellence Artist- in-residence, University of Bayreuth, Germany 2021-2022
She was spotlighted as a College Arts Association member (CAA) in 2021 and rated one of the top 10 women on top of Lagos Art Scene.
Layiwola has also been twice, a guest speaker at Art X, 2016/2018, She initiated the Annual Omooba Yemisi Shylon sponsored UNILAG/OYASAF Art Entrepreneurship Workshop (2011 to 2014) at the Department of Creative Arts, University of Lagos; and has served as a facilitator at several editions of the Bruce Onobrakpeya Art Workshops at Agbara-Otor, Delta State.
She has also been an artist -in-residence, in the Arts of Africa and the Global South Research Programme, (RAW) of Rhodes University, Grahamstown in South Africa, 2018; Artist-in –Residence, Kunstsammlung Nordrhein-Westfalen, Dusseldorf, Germany, 2017; and the Triangle Workshop, Alakuko, Lagos, Nigeria, 2010 organised by The British Museum in collaboration with the Centre for Contemporary Arts, Lagos.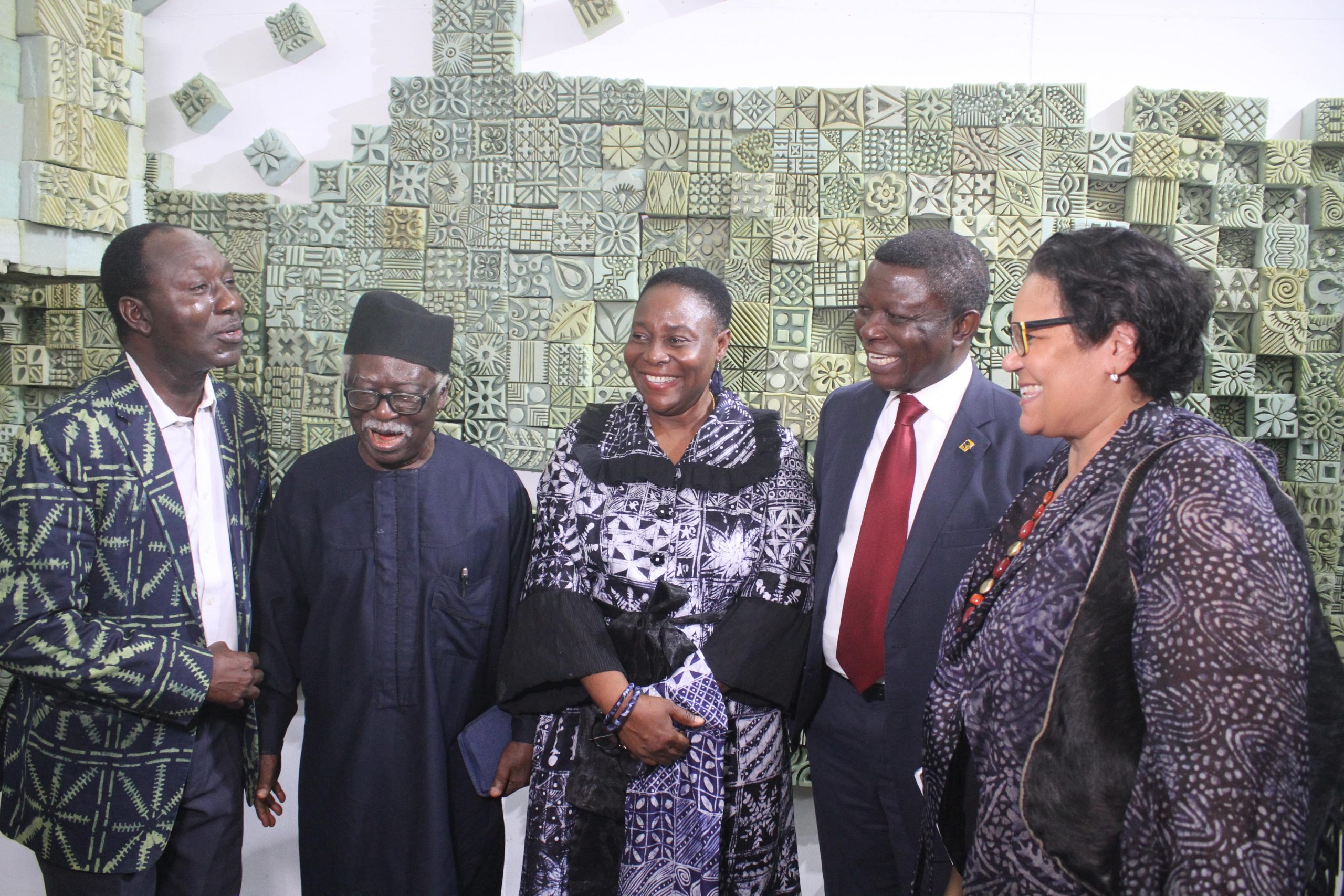 Layiwola holds membership of various associations; Art Powa Publishing Network (ARTPOWA) in South Africa; International Committee of Museums (ICOM); College Arts Association (CAA); Nigerian Field Society (NFS) Ibadan Branch and other organisations. She is a life member and serves on the Board of the Lagos Studies Association.
She has served as guest lecturer in several Universities/Institutions including,
Colgate University, 2021; Stanley Museum of Art, University of IOWA; 2021,  Vermont University, 2021; Rhodes Island School of Design (RISD), Providence, 2019; Millsaps College, Jackson, Mississippi, USA 2017; Tougalou College, Jackson, Mississippi 2017; University of Arkansas, 2017; The Art Institute of Chicago, USA, 2008; University of Wisconsin-Madison, 2008; University of Zurich, Switzerland, 2004.