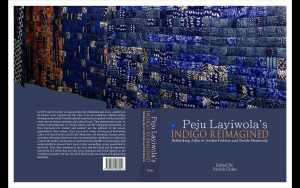 Peju Layiwola's Indigo Reimagined: Rethinking Adire in Yoruba Fashion and Textile Modernity
Publisher: Institute of African and Diaspora Studies, University of Lagos
ISBN: 978-978-990-855-4
Copyright Year: 2021
Editor: Patrick Oloko
Peju Layiwola's Indigo Reimagined: Rethinking Adire in Yoruba Fashion and Textile Modernity brings together the authoritative views of art historians, literary critics and other informed observers who encountered the exhibition entitled Indigo Reimagined held in 2019 at two venues in Lagos, Nigeria. Peju Layiwola, a Professor of Art History at the University of Lagos, curated the exhibition, which has been made to come alive in the essays and brightly coloured photographs offered.  Many witnessed the physical event in the gallery enclosures of the University of Lagos on the mainland and Alara on the Island, while others experienced its afterlife in the virtual space or media platforms.  The authors of these essays have described their perceptions of that phenomenal event in ways that a normal exhibition catalogue cannot fully represent. They have therefore stepped outside the framework of gallery and media spaces to give readers and researchers a clearer picture of what they could have seen. The result is a volume that indexes the social history of adire and communicates the awe of each contributor as they observe culture and creativity unfold and intersect in the fabric. The essays also draw attention to the ways that the literal and the figurative intertwine in the fabric to delineate its importance in Yoruba culture and its historical association with appareling humanity.
TABLE OF CONTENTS
Preface by Ayodeji Olukoju
Chapter 1: Introduction: 
Blue and Beyond:
Framing a Textile Cultural Past and Presence in Indigo Reimagined – Patrick Oloko
Chapter 2 : Àdìré and the Progression of
 Peju Layiwola's Artistic Logic
– Tobenna Okwuosa
Chapter 3:  Peju Layiwola's Multivocalities of Indigo
– Phoenix Savage
Chapter 4:  Peju Layiwola's Indigo Markets for a
Shifting Geopolitical Sphere
– Janine A. Sytsma, Ph.D.
Chapter 5: Rhapsody in Blue: Trad Style
– Patricia Oyelola
Chapter 6: Indigo Reimagined:
Àdìre in the Yoruba Social and Cultural Imaginaries
– Jean Borgatti
Chapter 7: Àdìrẹ As Peju Layiwola's Love letter– Nengi Omuku
Chapter 8:  Indigo Reimagined:
Textiles as Narratives of Gendered Labour
– Charles Gore and Paula Callus
Chapter 9:  Indigo Reimagined, Indigo Dyehard: Incursion,
Survival and Contestation
– Ayo Adedutan
Chapter 10:  Aesthetics of Adaptation and Tradition in
Peju Layiwola's Indigo Reimagined
- Lekan Balogun
Chapter 11:  Rírò Aró Tayo Ojú Òde:
Indigo as Creativity and Reality
– Timothy Olusola Ogunfunwa
Chapter 12:  Textile Architectonics as Creative Influence in 
Indigo Reimagined
- Odun Orimolade
Chapter 13: Breaking the Silence of One Colour:
A Conversation with Peju Layiwola
– Emmanuelle Spiesse